Minocqua, WI Antique Shop
Island City Antique Market
Welcome to Island City Antique Market of Minocqua, WI. We buy antiques, 1 piece or entire estates. Visit our dealers' display of fine antiques and collectibles now.
Learn More About Island City Antique Market:
Antiques and collectibles
Estate sales
Located between Paul Bunyan and McDonald's
Fall & Winter Hours:
Closed every Tuesday and Wednesday, EXCEPT during holiday weeks
We stock our store on a daily basis.
Stop and shop our 6000+sq. ft. antique store. No reproductions here!
Contact Island City Antique Market today at 715-356-7003 for more details.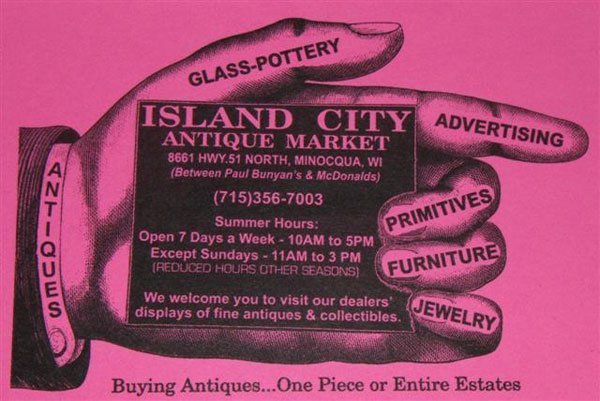 Hours of Business:
Summer Hours
Open 7 Days a Week 10:00AM – 5:00PM
Except Sundays:
11:00AM – 3:00PM
"Reduced Hours On Other Seasons"